Princeton Community Works 2020
Princeton Community Works 2020
Frist Campus Center, Princeton University
Princeton, NJ 08544
Monday, Jan 27, 2020
5-9:15 pm Reservation deadline: Tue, Jan 21, 2020 • Reserve early; prices rise Wed, Jan 1, 2020
Space limitation: 550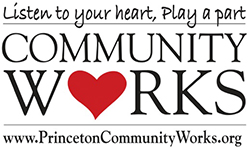 Automatic Login Link
Have it emailed to you...
---
This event has already happened. Thank you for choosing WhosComing.com to manage your registrations!
---
Princeton Community Works 2020
We Can Build Our Community Together

Monday, January 27, 2020
5-9:15 pm
Frist Campus Center,
Princeton University, Princeton, NJ


$40 per attendee
($35 if registered by December 31, 2019)

Includes a Keynote Address, 2 Professional Development Workshops, a Boxed Dinner (vegetarian option available), Coffee and Snacks, and Networking with over 400 other Non-Profit Professionals.

Workshop descriptions and speaker biographies can be found at
www.PrincetonCommunityWorks.org


"Community Works is designed to empower individuals, paid or volunteer, to gain skills, find out what other organizations are doing, and to expand our awareness of the multiple community needs that nonprofits meet."
-- Founder Marge Smith

DETAILED REGISTRATION INSTRUCTIONS IF YOU NEED THEM
====================
REGISTRATION TIPS FOR SUCCESS:

Before starting the registration process, review the available workshops. Additional details about the workshops and speakers are available on the PrincetonCommunityWorks.org website.

Make a note of which workshops you are selecting, as those selections will NOT be referenced in any confirmation emails. Past attendees have found it helpful to remind themselves of what workshops/alternate they are going to attend.

Each attendee must register and finalize ONLINE payment separately by the January 21st deadline.

While walk-ins are possible (payment by cash only, select classes on the spot), many classes are CLOSED because they fill during the online registration period. It is best to REGISTER and PAY online by the deadline of January 21st.

Get started by logging in (returning 2012-2019 attendees only) or by creating a simple user profile. (There is a link to request that your user code be sent to your email on file, PLEASE use it in case you don't have your user code handy).

Select your 2 workshops and 1 alternative workshop choice, and answer a few additional questions.

Click the button "UPDATE RESERVATION".

Watch for a confirmation email about your registration. Save the confirmation email for your records.




*To pay by your personal or business credit card OR your PayPal account, CLICK THE BUTTON "COMPLETE PAYPAL PAYMENT".


*You do NOT need to have a PayPal account to pay by credit card, you just need to use the PayPal processing program.*


A new window will open up from PAYPAL. Follow the instructions from the Paypal website to complete your credit card or PayPal payment. An email will be sent confirming the acceptance of your credit card. If you do not get an email from Paypal confirming your payment, IT IS NOT complete.
---
Event location MAP
Frist Campus Center, Princeton University
Washington Road and Ivy Lane
Princeton, NJ 08544
---
PrincetonCommunityWorks